About Us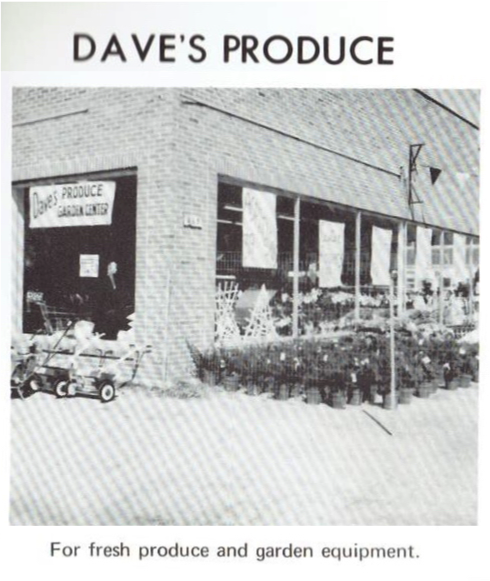 Our first location in the back of Dave's Produce & Garden Supplies.
A Humble Start in the Back of a Produce Market
Founded in 1967 by brothers Don and Tom Mabie, CS Tool Engineering was originally known as Cedar Springs Tool and Die. Housed in the back of a produce market on the north end of town, the young company's first jobs were repairing stamping dies for a local stamping house.
1967 - Innovation from the Beginning
But it wasn't long before they began to take on new projects. Such as producing the tooling for an ice gripper attachment for a standard set of wooden crutches. (Highly practical for snowy Michigan winters.) The device had to be designed to allow deactivation when the crutches were used indoors.
Company growth continued and in 1974, a new 6,000-square-foot building was constructed at CS Tool's present site -- the corner of Cherry and Fifth Streets in Cedar Springs. Regular additions to the building continued over the years, until today, the current physical plant occupies almost 40,000 square feet.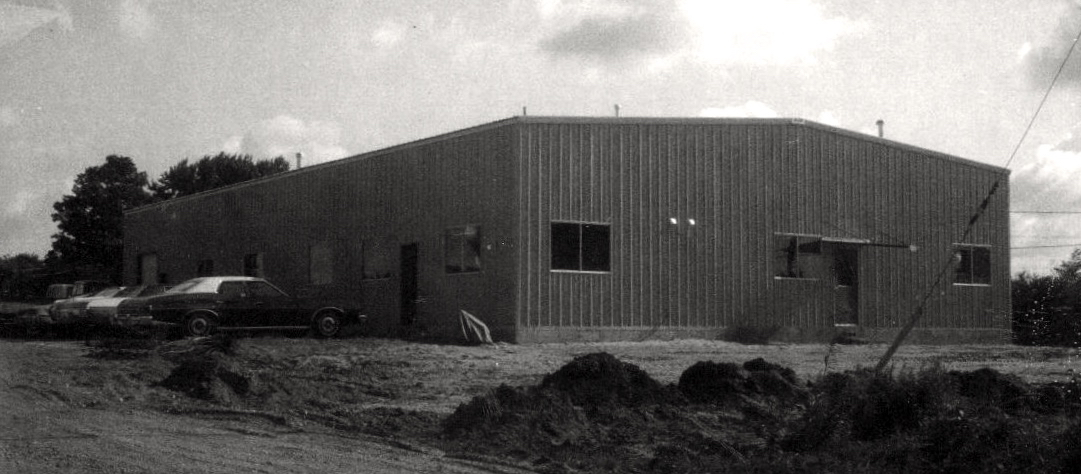 CS Tool Engineering, 1974, a new 6,000-square-foot building.
1982 - The First CNC Machine
The Mabie brothers started out with just one horizontal mill, a couple of Bridgeport mills, a pantograph, two grinders and one small lathe. As the company grew, new equipment was added, including the company's first CNC machine in 1982. It was used to produce a compression-formed electrical box.
Technology kept advancing, and CS Tool advanced right along with it. High-speed machining, multi-axis gun drills, and robotics began to replace the older machines. Processes became computerized... computer mainframe systems gave way to individual high-end workstations...new CNC programming became easier and more efficient. Today, CS Tool Engineering works with some of the most advanced technology in the industry.
Automotive, Toys, Furniture and TV's

Over the years, CS Tool has produced numerous dies and molds for the automotive industry, including door panel and headliner molds, hood ornament molds, encapsulated glass molds, and vehicle interior trim molds. But they've also created plastic injection molds for toy manufacturers Kenner and Mattel, molds for TV cases, SMC compression molds and office furniture seating molds.
CS Tool Engineering Today
Today, the company has expanded to include inlay plastic injection molds, in-tool-trim molds and overmolds. In fact, one of CS Tool's more challenging projects was an overmolded grab handle with a 3-D look and a hydrographic applied finish. (Within two weeks, the team had designed a concept handle, constructed a prototype mold, and produced samples.)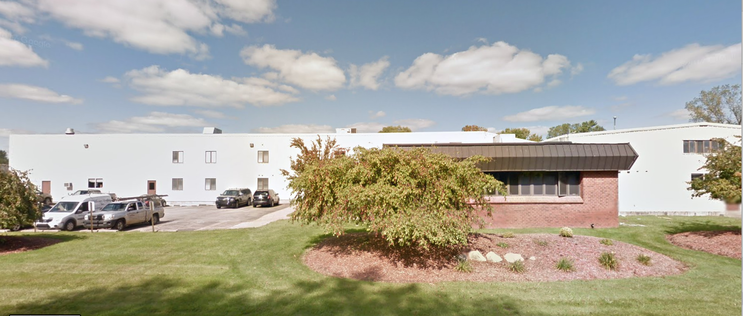 American Mold Builders Association (AMBA)
CS Tool Engineering is proud to be a member of the American Mold Builders Association (AMBA). The AMBA is the leading American trade association for mold makers. Our membership in the AMBA is your assurance that CS Tool Engineering is utilizing the most up-to-date industry best practices and technology.
The Whitehall Township Tooling Coalition
CS Tool Engineering is part of the Whitehall Township Tooling Coalition, a strategic alliance of eight tool and die shops. This partnership works to share best practice information and cooperates in the development of standardized procedures. The coalition's support makes us a stronger company, and helps us to better serve our customers.
---
Our Home Town - Cedar Springs, Michigan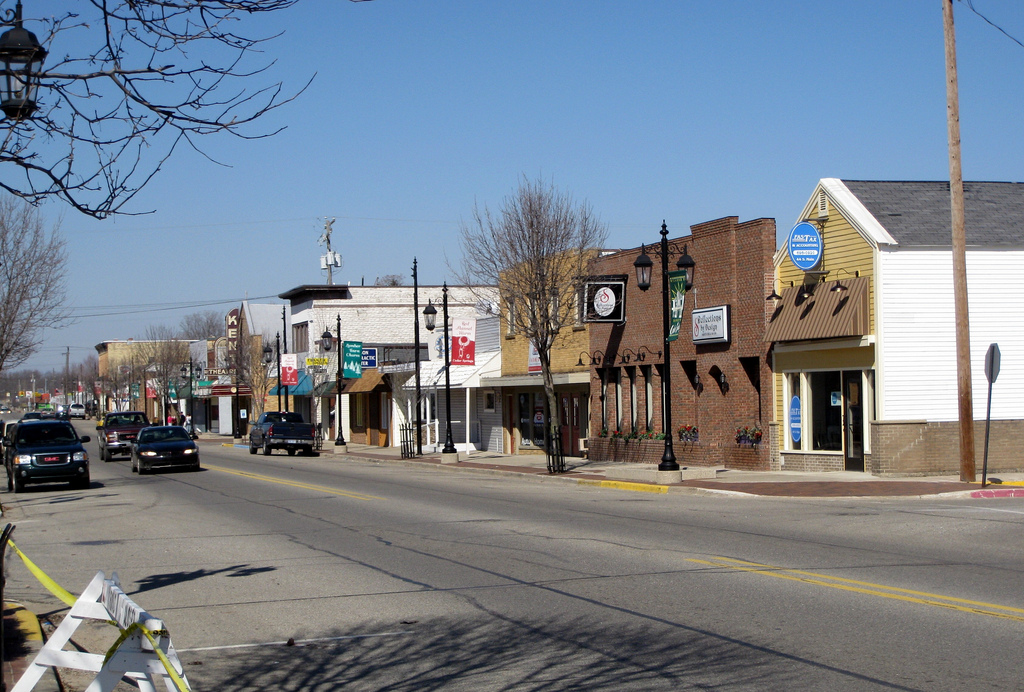 CS Tool Engineering is located in Cedar Springs, Michigan. Cedar Springs is a small town (2.10 square miles) with a population of about 3,500 people, located approximately 20 miles north of Grand Rapids.
Cedar Springs was established in 1856 and was well known for lumber and shingle industries. Today Cedar Springs is working on numerous improvements within the community. This is a collaborative partnership between local government, area residents an businesses, and organization such as the library Board and the Community Building Development Team.
In May 2017, through the efforts of this collaborative partnership, a $1.8 million Cedar Springs Community Library was opened. Plans are in the works for an outdoor amphitheater, a community building, and walking trails.
The North Country Trail (longest walking trail in the United States) is being routed through Cedar Springs. Improvements along Cedar Creek are planned with the addition of a metal sculpture, a new foot bridge, a rain garden, and learning station.
All this is making Cedar Sping a better community to live, work and enjoy.
This community partnership is driven to "Building the Heart of Cedar Springs," making it a better place to live, work and enjoy.
Cedar Springs - The Red Flannel Capital of the World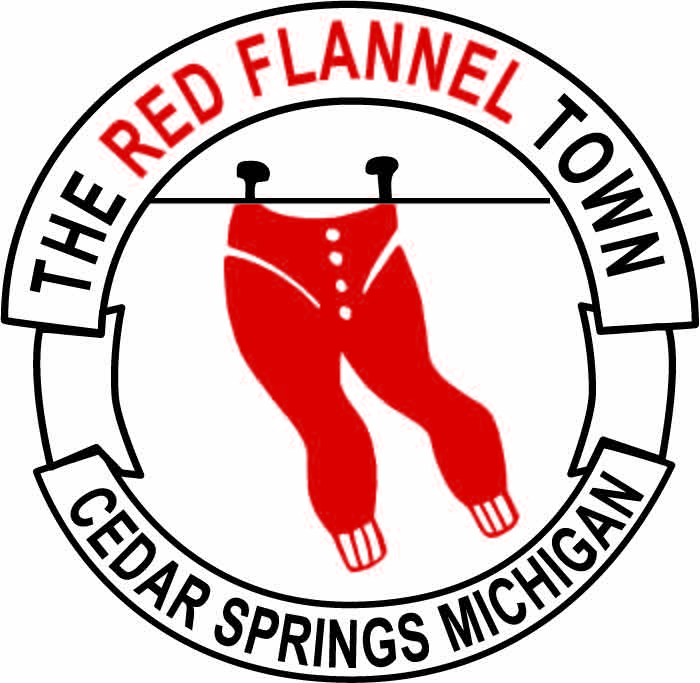 Red Flannel Town Logo used with permission of the Red Flannel Festival.Every town has its unique claim to fame and Cedar Springs is no different. Cedar Springs is the Red Flannel capital of the world. So we celebrate this heritage with our annual Red Flannel Festival during the first weekend of October.
It all began in 1936 in the midst of "the worst winter in years." The whole country suffered in the grip of heavy show and sub-zero temperatures. A New York feature writer bemoaned the "fact" that, "Here we are in the midst of an old-fashioned winter and there are no red flannels in the USA to go with it."

The local newspaper, The Cedar Springs Clipper, owned and edited by "The Clipper Gals" Nina Babcock and Grace Hamilton, answered the writer with a RED HOT editorial stating, "Just because Saks Fifth Avenue does not carry red flannels, it doesn't follow that no one in the country does. CEDAR SPRINGS' merchants have red flannels!"

The story was picked up by The Associated Press and orders began pouring in from all over the USA. (From the History of Red Flannel Royalty)
…And the rest is history.